All Classes are held at Issian Restaurant (1618 N 45th st Seattle) 10:00~Noon.
Tuition /$45 each class (including recipe & Ingredients )
Space is limited, so please sign up ASAP (setsuko.pastry@gmail.com)
1. Wednesday, April 2nd / Healthy Shrimp Patties
 Our Shrimp Patties are good for Sand witches, Burger, Lunch Box and also great as Appetizer
2. Wednesday, April 9/ Steamed Green tea Muffin with Red beans & Salted Cherry Blossom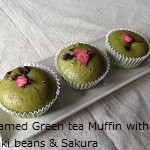 No Butter, Oil and Egg!! Our amazing Steamed Muffin keep everyone healty.
3. Wednesday, April 16 / Flower Sushi Roll
Want to make Special Sushi Roll? You Can learn Pretty one in only 2 hours with us.
4. Wednesday, April 23 / Japanese Chiffon Cake
Everybody are waiting for this class for ages!! Just sign up now!
Choice of Vanilla or Green tea